What do Bruce Willis, flying cars, Deepfake technology, and Back To The Future all have in common?
They're all featured in the acclaimed short film TECH TO THE FUTURE.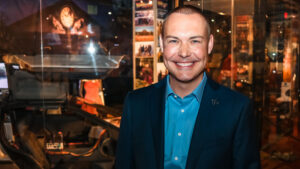 TECH TO THE FUTURE is a fun, tech-focused short film by showbiz expert Sandro Monetti, the multi-award-winning British journalist, author and broadcaster. Well-known as a chronicler of the famous, he has written bestselling biographies of movie stars Mickey Rourke and Colin Firth and a West End and Off-Broadway play about Marilyn Monroe while his own memoir, "Confessions of a Hollywood Insider," was an entertainment book of the year finalist in 2021. For his first documentary film TECH TO THE FUTURE, he's working alongside producer and host Francis Hellyer (whose first big success came in internet ticketing as the chief executive and co-founder of London Theatre Direct).
This upbeat acclaimed short film takes a positive look at some of the most exciting tech breakthroughs of the very-near-future.
Bruce Willis has become the first Hollywood star to work with the tech firm Deepcake to allow a digital moving and talking version of himself to be used on TV. The film's creators are huge fans of Willis, who recently 'starred' in a commercial for a Russian phone company – thanks to Deepfake technology, his digitally-created head was seamlessly attached to a human body double in the ad. This revolutionary tech also paves the way for iconic stars from the past like James Dean and Marylin Monroe to make a return to Hollywood .
Further reveals in TECH TO THE FUTURE confirm that the cinema vision of tomorrow as seen in "Back To The Future" was remarkably accurate: as we see host Francis Hellyer climb into the driving seat of an actual flying car, developed by AeroMobil. This game-changing vehicle can be driven along a road and refuelled at a petrol station just like any regular car – but changes into a plane in a matter of minutes. Alas, if we take into account the estimated purchase price of a flying car, this one's only for real high-flyers.
These are just two of the futuristic tech stories featured in TECH TO THE FUTURE.
Sandro and Francis are in discussions to turn TECH TO THE FUTURE into an exciting new TV series while continuing to show the film at various locations including Los Angeles and London.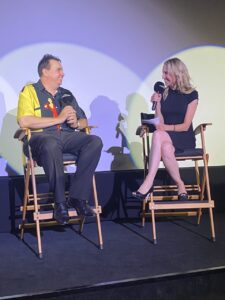 Director Sandro Monetti on stage at the LA premiere of Tech To The Future.
Book tickets for the LA run now